Upcoming Travel
Dallas, Texas – April 2023
Sicily, Italy – May 2023
TBD – August 2023
Background
This year (2018) marked the 20th anniversary of my first passport and trip outside of the United States of America.
I've had the travel bug since early on in my life. When I was young, my grandma and grandpa would travel all over the world. My grandma loved to take pictures and create albums. This was long before everything went digital. Each album must have taken her hours if not days to put together. I was at my grandparents' house a lot when I was young and loved to always look through the albums. I was fascinated with all the unique characteristics of each place. Plus, who gets to see their grandma riding a camel or their grandpa with a snake on his shoulders?! All I new is there was so much out there for me to see and experience. I couldn't wait.
I have been very fortunate to have had so many travel opportunities through my education. In 2007, I met the man that would become not just my husband and best friend but one of the best travel companions who shares my love for exploring the world. As he and I now live in Italy, we are hoping that this will open the door for many additional adventures.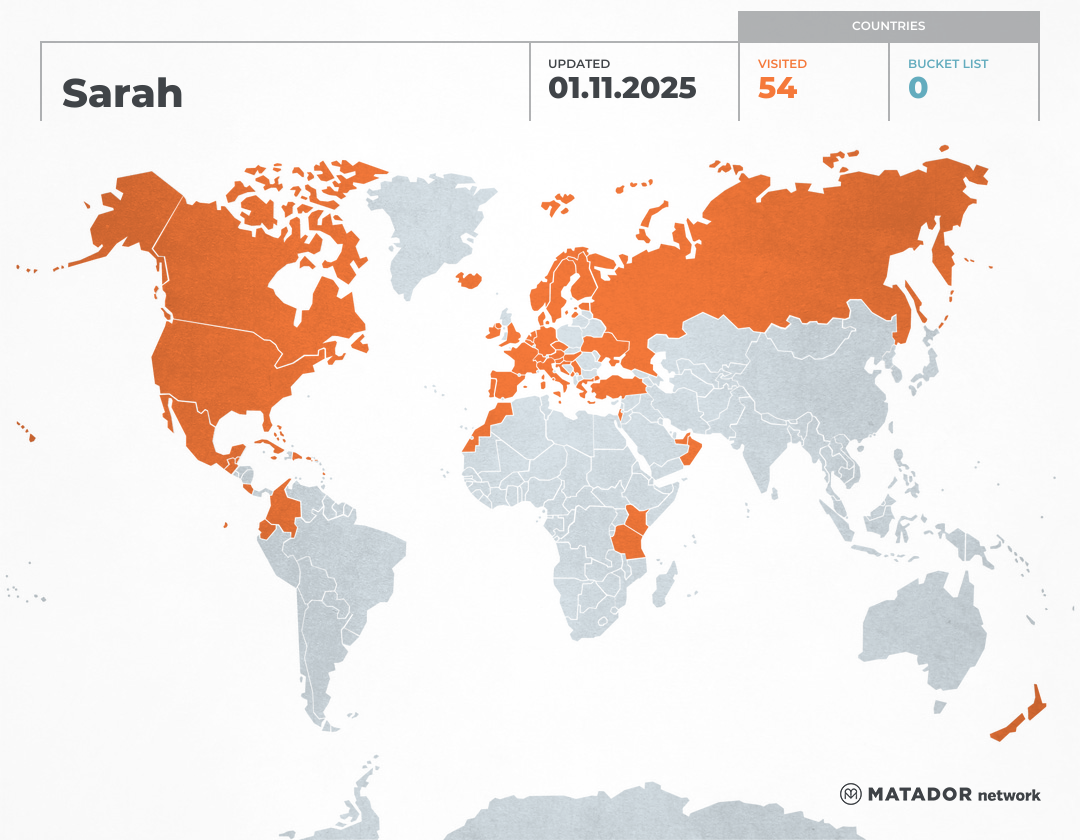 Get your own travel map from Matador Network.

NORTH AMERICA
20 Years of Travel #2: Austin, Texas in 12 Hours
20 Years of Travel #4: Cuba
20 Years of Travel #11: Jamaican Wedding
20 Years of Travel #15: USA Road Trip
20 Years of Travel #20: Washington, DC
2018 Texas Book Festival
Weekend in Columbus, OH – October 2018
Princess Cruise Experience 2018-2019
A Day on St. Thomas, US Virgin Islands – December 2018
A Day in Antigua – December 2018
St. Lucia – January 2019
A Day on Barbados – January 2019
A Day on St. Kitts – January 2019
Hometown Adventure-Milwaukee-July 2019
Oklahoma Road Trip – March 2021
A Day in Corpus Christi, TX – April 2021

SOUTH AMERICA
20 Years of Travel #14 – Galapagos
EUROPE
Prague, Czech Republic – August 2013
Malta – September 2013
Paris, France – December 2013
Italy – 2013
Barcelona, Spain – December 2013
Berlin, Germany – January 2014
Adventures in Italy – January-March 2014
Adventures in Italy – April-May 2014
Adventures in Italy – July 2014
Tuscan Wine Tour – July 2014
Istanbul, Turkey – August 2014
Budapest at Night – November 2015
The Sights, Sounds, and Smells of Christmas – Budapest, Hungary – November 2015
Florence at Christmas time – December 2015
Moscow, Russia – August 2014
St. Petersburg, Russia – August 2014
Normandy, France – October 2014
Christmas Holiday in Porto, Portugal – December 2015
Charming Town of Sintra, Portugal – December 2015
20 Years of Travel #1: German Class Trip
20 Years of Travel #5: Berlin, Germany
20 Years of Travel #6: Lucca, Italy
20 Years of Travel #8: England Road Trip
20 Years of Travel #10: Milan
20 Years of Travel #12: St. Petersburg
20 Years of Travel #13: Mediterranean Cruise
20 Years of Travel #16: Iceland
20 Years of Travel #17: The Balkans
20 Years of Travel #18: Paris
20 Years of Travel #19: Chernobyl
MIDDLE EAST
20 Years of Travel #7: Dubai
ASIA
AFRICA
Wildebeest Migration (Tanzania) – August 2014
Serengeti (Tanzania) – August 2014
Ngorongoro Crater (Tanzania) – August 2014
20 Years of Travel #3: Sahara Trek
20 Years of Travel #14 – Galapagos
ANTARTICA
MISCELLANEOUS
Quote
Why I Travel
Travel Destinations from A-Z
The Biggest Move of My Life
2014 New Year Resolutions
New Year's Resolution Completed (#13)
America Day in Italy – April 2014
2015 New Year Resolutions
20 YEARS OF TRAVEL (1998-2018)
20 Years of Travel
20 Years of Travel #1: German Class Trip
20 Years of Travel #2: Austin, Texas in 12 Hours
20 Years of Travel #3: Sahara Trek
20 Years of Travel #4: Cuba
20 Years of Travel #5: Berlin, Germany
20 Years of Travel #6: Lucca, Italy
20 Years of Travel #7: Dubai
20 Years of Travel #8: England Road Trip
20 Years of Travel #9: African Safari
20 Years of Travel #10: Milan
20 Years of Travel #11: Jamaican Wedding
20 Years of Travel #12: St. Petersburg
20 Years of Travel #13: Mediterranean Cruise
20 Years of Travel #14: Galapagos
20 Years of Travel #15: USA Road Trip
20 Years of Travel #16: Iceland
20 Years of Travel #17: The Balkans
20 Years of Travel #18: Paris
20 Years of Travel #19: Chernobyl
20 Years of Travel #20: Washington, DC